WIAW
Hey friends! How's your day going? I hope it has been as awesome as mine :)
You know what time it is…What I Ate Wednesday!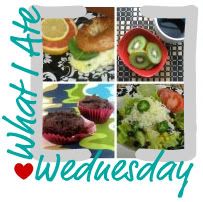 Today started off bright and early with my usual cup of coffee (I drink it black–no sugar or cream) plus vegan overnight oats! If you don't know about VOO's, send me an email or find me on twitter–we need to talk.

Pumpkin Gingerbread Vegan Overnight Oat Parfait with Banana Soft Serve and coconut sprinkles. SO GOOD. My parfait attempt was a fail because everything instantly mushed together, but it still tasted amazing. Hopefully someday my parfait skills can be half as good as Angela's.
I blasted out a quick Bodyrock workout in the morning and by the time lunch rolled around I was super hungry! I met my future brother- and mother-in-law for a fun-filled lunch and had a big California salad. I promise there are actually tons of veggies under all those delicious tortilla strips. It had mixed greens, tomatoes, corn, black beans, avocado, and a little bit of cheese with a spicy dressing. I would normally consider ordering this without the tortilla strips or cheese to be extra healthy, but today I felt like I needed the extra cals :)
Afternoon snack while I did my chores was a big green juice. In the mix: celery, cucumber, ginger, and half a lemon. Tangy and spicy…just the way I like it!
For dinner I made my own version of Mama Pea's Thai Fried Quinoa and baked tofu with a special new sauce. Keep your eyes peeled for the recipe ;)
I also did a little experimental baking this afternoon, so there were cookies to be munched on for dessert! I did not eat this entire plate of cookies. But I wanted to. This is another recipe I'll be happy to share with you in the next few days!
So that's basically everything–of course I drank about two liters of water and I'll probably have a little tea before bed as well. I will try not to almost burn down the kitchen like I did the last time I made a pot of tea…but you don't wanna hear about that ;)
Hope you guys join the party and share links to your own WIAW below! Have a great night my friends! xo
Thought for the day: "You cannot make everyone be agreeable, but you can refuse to let them upset you." ~Joyce Meyer